---
LINKS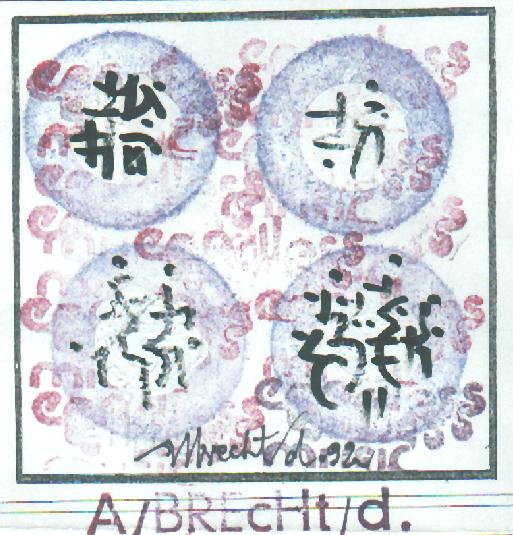 Opera di Albrecht/d..





Everarts
Tartarugo
Kaiman - progetto Mail Art
Liuba Picini
Barry Edgar Pilcher
Sztuka Fabryca
Nenad Bogdanovic
Joachim Wilbers
Guy Bleus
Sztuka Fabryka Archive.
Luce Fierens & Anina Sebroeck.
Interested in ARTISTAMPS?
Artistamp Gallery.
Anna Banana'
Jas Cyberspace
Pas de Chance
Online discussion on Artistamps
Guy Wooles

Michael Lumb

Tim Drage
Glossolalia - NEW!(by Jukka Lehmus
Planet Susannia
Angela and Peter Netmail
The MAIL-ART projects overview by MERLIN
Heindesign.
Information about PIPS.
Dieter Daniels
The online FLUXUS-archive
The Frankenstein Mail Art Exhibit.
Bruno Capatti - online - AH!
KAIMAN : Art and New trends : MAIL ART
Cavellini
Paolo Barrile - Messaggio Terra.
The MAGAM - Gallery (Italy).
Mail Art Service Italy
Lia Garavina, Italy
Info about Japanese Mail-Art
The site from SORA
Francis Van Maele.
Edition Phi.
Martijn Engelbregt
Brigitte Nieuwbuur
Jenny de Groot & her messageboard!

The Museum of Instant Images (Netherlands)
Andrey Tisma.
Ruud Janssen.
EverArts
International Union of Mail-Artist
MERZ-mail / Pere Sousa.
BOEK861 - visual Poetry.
Antonio Pejez's Homepage
Is This Mail-Art? (Tartarugo)
Mail Art at the Communication Museum Bern
Clemente Padin's book "Art & People".
ALL you ever wanted to know about ARTISTAMPS!
The SACKNER Archive online
Exhibition Fluxus - Mail-Art - Net.Works at Queens Library Gallery NY
Mars Tokyo Visual Diary.
John M. Bennet's L & FT online
Global Mail - THE NEW SITE!.
Artist Books & Umbrella by Judith A. Hoffberg
CYBEROPERA by HONORIA
Silver fox STAMP-contacts
FACTSHEET5 - all about ZINES!
Interested in the subject NEOISM?
Article by Mark Bloch about RAY JOHNSON
Dragonfly, lots of information
The Sticker Dude from NY is online now.
The Electronic Museum of Mail Art by Chuck Welch
Global Mail - The hole in the underground #13.
Global Mail - The hole in the underground #14.
Mail art is art that goes all over the world......
A list with all kind of RUBBER-STAMP stores/factories.
The Mona Lisa mailart show at Smallville Funny Farm.
Shouting at the Postman / Ken Miller.
Tabloid Trash - online zine (USA)
LINK to a SITE in USA with lots of links to rubberstamping..
Four decades of Postal Networking (John Held Jr. - USA)
Overview of homepages in connection to stamping (USA)
Join the mail-art discussion at PLEXUS (USA)
Indigest Press - Blind Robin.
Mail-art Interview with Karen Elliott, Honoria, and Crackerjack Kid.
The Homepage or RUBBERSTAMPMADNESS
---